Over-center actuator block and plunger design gives crisp actuation, diminishes sparking, and increases operating life. Bright, LED illumination at actuator top (for illuminated models).
Anti-jamming design protects contacts from damage caused by excessive downward force on the actuator. High internal barriers between poles, and insulating sheet between case and actuator block provide added protection to contacts.
Specially composed silver alloy contacts for power applications, or gold contacts for logic-level applications, give high contact reliability.
Download Specifications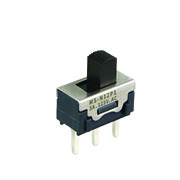 上一个
1
2
3
下一个
| 型号 | 系列 | 额定电流(A) | 电极 | 安装方式 | 电路 | 发光 |
| --- | --- | --- | --- | --- | --- | --- |
| | | | | | | |
| MS12AFG01 | 滑动开关 MS | 0.4 | SPDT | Panel Mount | On-On | 非发光 |
| MS12AFW01 | 滑动开关 MS | 6.0 | SPDT | Panel Mount | On-On | 非发光 |
| MS12ANG03 | 滑动开关 MS | 0.4 | SPDT | Through Hole | On-On | 非发光 |
| MS12ANW03 | 滑动开关 MS | 6.0 | SPDT | Through Hole | On-On | 非发光 |
| MS12ASG13 | 滑动开关 MS | 0.4 | SPDT | Through Hole | On-On | 非发光 |
| MS12ASG30 | 滑动开关 MS | 0.4 | SPDT | Through Hole | On-On | 非发光 |
| MS12ASG40 | 滑动开关 MS | 0.4 | SPDT | Through Hole | On-On | 非发光 |
| MS12ASW13 | 滑动开关 MS | 6.0 | SPDT | Through Hole | On-On | 非发光 |
| MS12ASW30 | 滑动开关 MS | 6.0 | SPDT | Through Hole | On-On | 非发光 |
| MS12ASW40 | 滑动开关 MS | 6.0 | SPDT | Through Hole | On-On | 非发光 |
| MS12LFW01C | 滑动开关 MS | 6.0 | SPDT | Panel Mount | On-On | 发光 |
| MS12LFW01E | 滑动开关 MS | 6.0 | SPDT | Panel Mount | On-On | 发光 |
| MS12LFW01F | 滑动开关 MS | 6.0 | SPDT | Panel Mount | On-On | 发光 |
| MS12LNW03C | 滑动开关 MS | 6.0 | SPDT | Through Hole | On-On | 发光 |
| MS12LNW03E | 滑动开关 MS | 6.0 | SPDT | Through Hole | On-On | 发光 |
| MS12LNW03F | 滑动开关 MS | 6.0 | SPDT | Through Hole | On-On | 发光 |
| MS13AFG01 | 滑动开关 MS | 0.4 | SPDT | Panel Mount | On-Off-On | 非发光 |
| MS13AFW01 | 滑动开关 MS | 6.0 | SPDT | Panel Mount | On-Off-On | 非发光 |
| MS13ANG03 | 滑动开关 MS | 0.4 | SPDT | Through Hole | On-Off-On | 非发光 |
| MS13ANW03 | 滑动开关 MS | 6.0 | SPDT | Through Hole | On-Off-On | 非发光 |
| MS13ASG13 | 滑动开关 MS | 0.4 | SPDT | Through Hole | On-Off-On | 非发光 |
| MS13ASG30 | 滑动开关 MS | 0.4 | SPDT | Through Hole | On-Off-On | 非发光 |
| MS13ASG40 | 滑动开关 MS | 0.4 | SPDT | Through Hole | On-Off-On | 非发光 |
| MS13ASW13 | 滑动开关 MS | 6.0 | SPDT | Through Hole | On-Off-On | 非发光 |
| MS13ASW30 | 滑动开关 MS | 6.0 | SPDT | Through Hole | On-Off-On | 非发光 |